Here we are in mid-October, and I hope you are enjoying some of the autumnal vibrance, and the general shift in the season. Just like the weather has been fluctuating from humid/unusually warm to crisp and cold, so too is our effort to pace ourselves. It seems we are fluctuating back and forth. Sometimes we are successful, sometimes we are overwhelmed.
Last week was a great week to take stock together, especially after an especially stressful week for many of us. As we thought more about the rhythms of your current thesis work, we decided to make some changes to our thesis class time structure. Kate's blog from last week prompted me to consider the need for some concentrated writing time during our MA Thesis class gatherings. As I mentioned last week, thesis class is usually devoted to checking in, reflection & feedback, and the necessary accountability measures to keep everybody progressing, slow and steady. This is still the overall goal.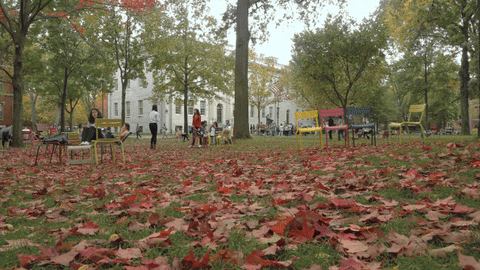 But I also sense the challenge of our diverted attention (due to the demands of this relatively new face-to-face life). I think it has made it even more difficult to squeeze concentrated writing time into each jam-packed week. So with this context in mind, we have all agreed to devote more time during our weekly meetings to independent writing time. It is fitting that we can start this on the National Day of Writing #nationaldayonwriting2021 #writeout #whyiwrite! Our plan for now (the next few weeks) is to conduct a focused "writer's workshop session" during the second half of class time. The last hour and a half of class should be a time to let your writing flow. We are purposefully setting aside this time to get more concentrated work done on your project. Use part 2 of class time to write, research and/or outline critical aspects of your developing work. Working quietly side by side peers who are doing the same kind of work will help in the ability to motivate and concentrate. I will be available for one-on-one consultation during Part 2 of class, but the priority when I am not connecting with you is to just WRITE and make some more progress.
Thank you to Hugo for an excellent walkthrough presentation of his in-progress e-lit thesis which explores the act of meaning-making in both art and language. We all "took in" (interacted with) his sophisticated yet somber Gallery – a tour of a stark/ formal exhibition space wherein the reader is invited to both explore aesthetic artifacts, and discover writerly reflections. These dual elements of the piece are left to us by a narrator, as well as a visual artist. The combination of these juxtaposed (yet parallel) points-of-view leave the reader reflecting on the nature of discovery and also intention. There is an implicit "You" and "I" in the work, that gives the whole experience a very human touch, but also makes it both elusive and mysterious. I really enjoyed our discussion of the piece, and the editorial suggestions offered to Hugo will certainly help him refine the work as he looks to complete it by the close of the semester. The work is definitely compelling, and pulls together Hugo's artistic gifts along with his philosophical musings during this time studying for an MA in Writing.
….Next up we have Kate! I look forward to her presentation on Wednesday.
As always, I will look to your blogs for an understanding of your individual progress, and I hope to touch base quietly with each of you during Part 2 of our class time on Wednesday night. We are booked upstairs in Room 209 for the entire class period next Wed. But I hope to conduct the first part of class in Room 115. It seems there is a block on booking that room at 4:30pm because there might be a workshop that Craig conducts in that room, but I don't think it fills up very often. Let's plan to meet together first thing in Room 115 (the computer room where we first met with Craig). If it is occupied, we can always move to our back up room – Room 209.
See you all soon!
Dr. Zamora