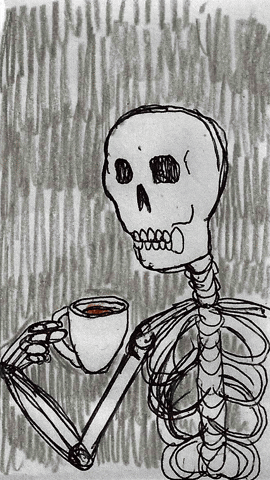 I don't mean to scare you all, but we are officially headed to Halloween next weekend, which means that the remaining time in this semester will start to really fly by, from here on in. As an academic with many semesters under my belt, I am well attuned to the rhythms of the Fall semester. What typically happens is we hit Halloween with a sense of the semester midpoint, but the remaining time really whips right by. This is in part due to Thanksgiving and then the quick approach of the holidays, which bear for many of us the weight of complex emotional expectations. In other words, our experience of time will accelerate, the pressure dial is turned up, and the worry involved with reaching personal goals will start to dial up too. But I am here to say it will be ok. I am of the mindset that if we acknowledge these impending factors, we can head off the way in which it might take us all by surprise. My advice for the next six to seven weeks is to keep your eye on the prize, and remember that "slow but steady" wins the race. (If you were wondering – in this context, "the prize" is a successful completion of the semester, and for some of you, the successful completion of your MA thesis and your MA degree).
Here is some food-for-thought about the challenge of procrastination, and the bigger picture (with some laughs):
Recap
Thanks Kate for a great overview of your thesis project. Your approach to your thesis is really special because it is so useful: practical tips that come first from the deep well of experience, but are also supported by research and theory. I see the key to the success of this particular project coming from its accessibility and familiar accepting tone, along side certain design elements (easily digestible visualizations, strategy summaries, and lesson plan cut outs, etc). Those design elements interspersed throughout the project will make your work truly applicable, not daunting. Still, the "weight" of the work will also lie in the referential element to scholarly knowledge and research that supports the practical guidance. This element can be inserted strategically with a purposefully light touch. In the end, the teacher-reader should not feel overwhelmed, but should also gain confidence in the merit of your understanding of what works in the classroom.
Next up! Jessie will share with us her creative fiction project. I really look forward to hearing more about her developing story.
See you soon,
Dr. Zamora